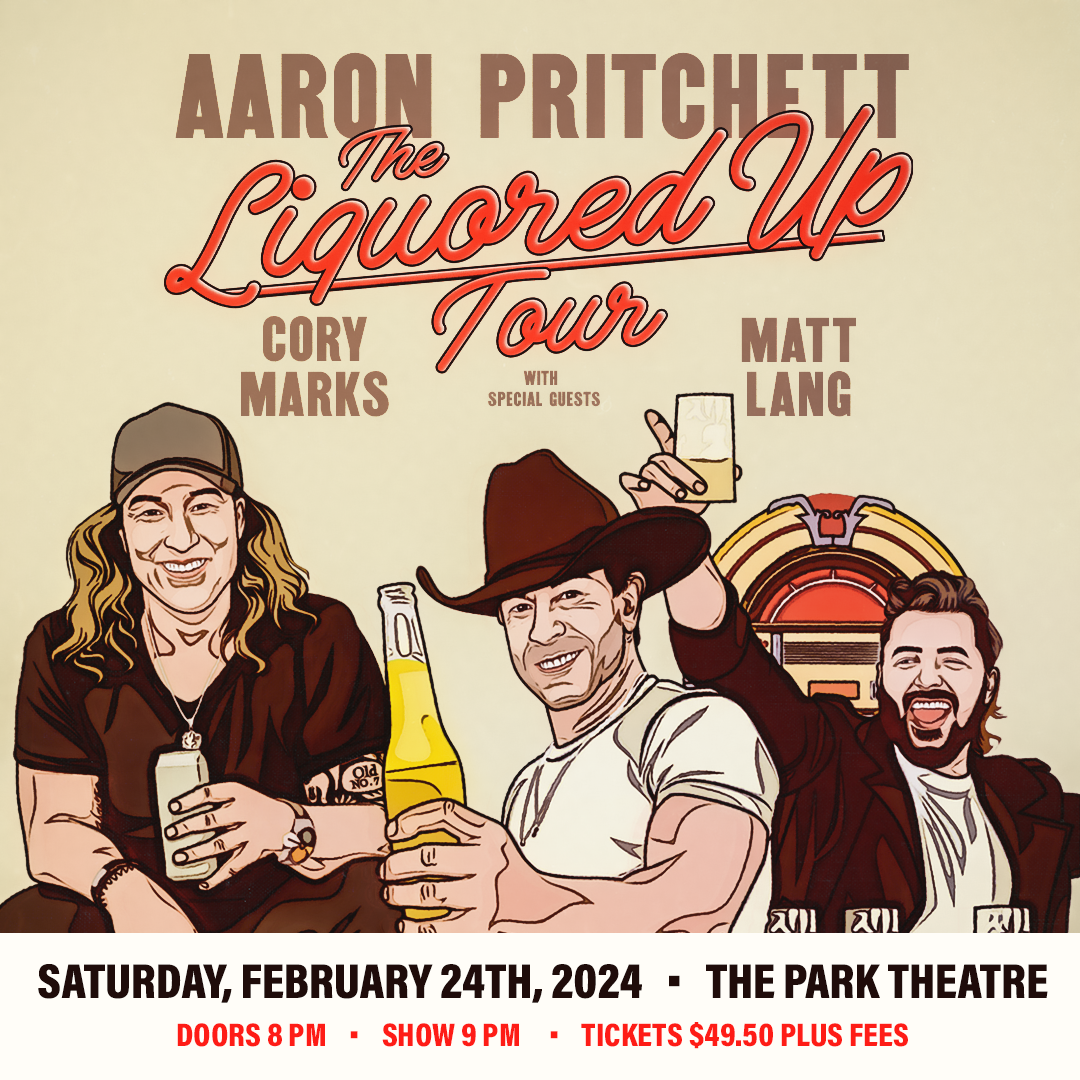 The Park Theatre Presents
Liquored Up Tour with Aaron Pritchett, Cory Marks and Matt Lang
with
Aaron Pritchett
,
Cory Marks
,
Matt Lang
🎸🥃 Liquored Up Tour with Aaron Pritchett and Special Guests Cory Marks and Matt Lang! 🥃🎸

📅 Saturday, February 24th, 2024
🚪 Doors Open at 8 pm | Show Starts at 9 pm
📍 Park Theatre, Winnipeg

🎟️ Tickets: $49.50 plus fees

Winnipeg, get ready to be swept away by the electrifying sounds of country music as Aaron Pritchett, the Gold-certified, multi-award-winning artist, takes the stage at the Park Theatre! Joined by special guests Cory Marks and Matt Lang, this promises to be a night of unforgettable performances.

Having left an indelible mark on Canadian country music over the past two decades, Aaron Pritchett is embarking on his 2024 cross-Canada Liquored Up Tour, covering 30 dates from coast to coast. The rising country music stars Matt Lang from Quebec, and the critically acclaimed Cory Marks are joining him.

"It's hard to believe that it's been 5 years since my last cross-Canada tour! I've missed travelling and playing my songs for thousands of amazing fans in so many cities and towns across the country – more than anyone can imagine," shares Pritchett. "The excitement inside me to get back on stages from the West Coast to the East Coast is probably the highest of my career. I can guarantee the Liquored Up Tour will blow concert-goers' minds! The energy crowds will witness on stage from myself, Matt Lang and Cory Marks – three diverse artists – will be like nothing anyone has ever seen!"

Before the tour kicks-off, the trio will release Pritchett's rowdy new single, "Liquored Up," featuring Matt Lang and Cory Marks. This party-ready anthem will be available for streaming starting November 3 via Big Star Recordings.

With three unique dynamics joining forces for an explosive performance of the new track each night on stage, Pritchett's Liquored Up Tour, featuring Matt Lang and Cory Marks, is set to kick off the year with some of the best entertainment 2024 has to offer. Don't miss out on this country music extravaganza – grab your tickets now and get ready for a night of unforgettable tunes and incredible performances! 🎶🤠




---
Artists
---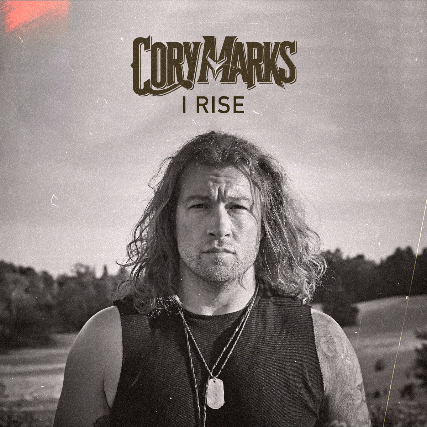 Mixing country music with the hard-hitting stomp of rock & roll, Cory Marks prepares to release new music. Full of autobiographical storytelling, guitar-driven anthems, drinking songs, and breakup ballads, his songs are rooted in the influence of Cory's hometown, where he grew up surrounded by the salt-of-the-earth residents of North Bay, Ontario. It was there where he began playing drums at ten years old. Whenever he wasn't banging along to songs by Deep Purple, Ozzy Osbourne, and Rush, he was listening to his parents' country records, developing a deep appreciation for outlaws like Waylon Jennings and Merle Haggard. Those two genres — classic country and amped-up rock — would eventually join forces in Marks' own music, earning him a string of gigs with heavyweights like Toby Keith and Brantley Gilbert along the way.

Before launching his songwriting career, and changing the trajectory of his life, Marks would prove himself in the hockey rink and pursue dreams of becoming a fighter pilot. He strapped on his first pair of skates at 3 years old, eventually earning a spot on the university hockey team at Royal Military College, and was a dominating presence on the ice, thanks to his 6-foot 1 inch, 220-pound frame. Prior to attending college, he enrolled in a private pilot school were he logged in almost 100 flight hours and eventually had the opportunity to fly one of those hours with the Canadian Forces Snowbirds in the summer of 2017. He continues working towards his private pilot license.

While in college, he never stopped playing music but did so privately… that is, until he joined his teammates at a local bar one night, and found himself pushed onstage when the regularly-scheduled musician took a break. "My friends knew I played a little music, and they were chanting for me to do some songs," he remembers. "It was a packed little bar. I did two originals and two covers, and afterward, people were coming up to me and asking where I was playing next. I didn't have an answer for them, because this was literally the first time I'd ever sung in front of anyone." Cory began making weekly trips to the bar, hopping onstage with each visit. As time went on, he wrote a new batch of songs, hit the road, and hasn't looked back since.

A road warrior, Cory has built a strong following not only in Canada, but also in America, where he has been recording with award-winning producer, Kevin Churko. Along with Kevin's son Kane – the Juno Award-winning producer and songwriter, the three of them worked together in Churko's Las Vegas studio, capturing the energy and electricity of Cory's live show. It was a natural partnership. Like Cory, Kevin had grown up playing drums, eventually expanding his career to include collaborations with country artists like Shania Twain and rock icons like Ozzy Osbourne. "We both appreciate country music greats like Merle Haggard and Waylon Jennings, but we love the heavier side of rock & roll and metal, too," Cory says of his producer and mentor. "We decided to mash it all together. It's funny, because when I was growing up, my favorite records were Ozzy records. I dreamt of having that kind of production on one of my own records. Sure enough, seven years into my career, I've partnered with the producer who worked on all those albums. What a cool circle."
---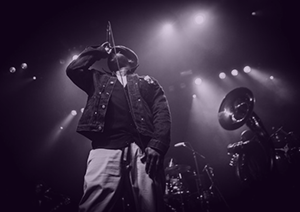 Proudly from Maniwaki (QC), Matt Lang has always wanted to bring Nashville to Québec. In the spring of 2018, Matt was on his way to Nashville to record his first English-language album, and at that time, he didn't speak a word of English. Produced by Danick Dupelle, a Québec producer who has lived in Nashville for nearly 18 years and a member of the popular group Emerson Drive, the album quickly made its way to No.1 on the national iTunes Country Albums chart for multiple weeks in early 2019. The EP, including popular tracks 'Love Me Some You' and 'My Final Pour', has performed brilliantly on streaming platforms with total streams exceeding 10 million to date.
In September 2019, Matt won the national SiriusXM Top of the Country competition, three prizes at Québec's Country Gala, SOCAN's Country Music Prize and got his first ADISQ nomination for English album of the year. In June 2020, Matt released his second EP 'More' under Toronto based record label Jayward Artist Group. Matt and his band opened for Tebey on 'The Good Ones' tour in Ontario and Western Canada, and they also performed their first European shows in March of that same year at the prestigious C2C Festival in Berlin. The album also exceeds 10 million combined streams and includes 'Getcha' and 'In a Bar', both Top 5 radio singles, 'Only a Woman' (Top 11) and 'Water Down the Whiskey' (Top 20).
Since 2020, Matt performed over 150 live shows to ever-growing crowds and has won English Album of the Year at the Quebec Gala Country. Matt Lang is back on the road in Quebec, where he has just opened for Luke Combs on Plaines d'Abraham in front of more than 80,000 people. He also made a trip to England at the popular Boots and Buckle Festival and several round trips to Nashville where he is working on his next project. While waiting for this new record, Matt launched the duo 'Never Met a Beer' with Canadian artist Tyler Joe Miller, making it his 3rd Top 10 on Canadian Country radio. Matt also released 'Moonlight sessions', a cover album of his country favorites alongside his own 'Moonlight' rum available in all SAQ stores across Quebec.
---
---