Frequently Asked Questions
Find answers to frequently asked questions about the Park Theatre
How can I buy tickets for Shows at the Park Theatre?
PLEASE NOTE: Any purchase of concert tickets through third-party sites or resellers is at your own risk.
Tickets should only be purchased through https://myparktheatre.com
What happens if a show is cancelled or postponed?
If a show is cancelled, all tickets will be automatically refunded back to the form of payment you used to purchase the tickets.  If a show is postponed, your e-tickets will be automatically moved to the new show date.
I am unable to use my concert tickets for some reason, so can I get a refund?
No, sorry, all ticket purchases are final and non-refundable.
When and where do I pick up my tickets?
On the night of the show, your tickets will be waiting at the ticket window anytime after door time.  Please note, these are e-tickets, so if you have purchased multiple tickets, your entire party will need to be there at pick up.  Please have your ID ready, and your ticket's up on your phone.
Can I attend an event at the Park Theatre if I am under 18?
The Park Theatre is an all-ages venue, so you are welcome to any AA event.  (There are certain events that we host that are explicitly 18+).
Do I have to have an ID with me to attend an event?
Why is a show 18+
Age limitation is determined by various factors but is typically decided by the performer's management or by the party renting the venue.
Is the Park Theatre Accessible?
The Park Theatre is accessible.  The front doors are at street level; we have a completely accessible washroom, a portion of the bar dedicated to accessibility, and we have an area with a straight-on stage view that is reserved for wheelchairs.
Are there Gender Neutral washrooms?
We have a Gender Neutral washroom.  Please note, the Park Theatre is a completely inclusive venue. The Park Theatre will not accept intolerance, bigotry, or hate in any form.
Photography | Videotaping
Absolutely, under no condition can anyone record a show at the Park Theatre.  Shows are an intellectual property that the band/artist owns.
For photography, or standard practice is cell phones are allowed, or small point and clicks (no detachable lenses), Flash Photography is not allowed.  Please be courteous of other audience members.  No one wants to have their view blocked by a cell phone or camera.  

Where do you Park, when attending shows at the Park Theatre
We suggest Oakwood, Baltimore, Ashland Ave.  There are 400+ spots available within a 3 block radius of the Park Theatre.
Does the Park Theatre offer seating?
The Park Theatre is primarily general admission, standing room only venue.  Certain events that we host will be seated events, but these will be listed on the ticket link.  Otherwise, the room is considered standing only.  There will be tables and stools on the upper platform that will be first come, first serve.
Please refer to an event's specific ticketing page for more information about seating availability and selection.
Lost Items, or items left in the Coat Check
Email us at parktheatrecafe [at] gmail.com, and we can see if the item has been found and arrange a date and time for pick up.  Please note, any items left in lost and found or coat check over 30 days will be donated!
Bags | Pack Backs | Etc.
You may bring a small bag or purse to the show.  Large bags, backpacks, or messenger style bags are not permitted and must be left at coat check (a cost may apply) or not brought in at all.  
FOOD
The Park Theatre does not serve food, and no outside drinks or food is permitted in the building.
Park Theatre Tech Equipment
The Park Theatre is a constantly evolving entity; things are changing for the better as we continue to enhance the experience for artists and event attendees alike. This list is continuously evolving as we make those improvements.
FOH
Midas Pro 2 at front of house
Midas Pro 2c at monitor world
Midas DL251 Stage Box
Klark Tenik DN9650
PA
DBX Driverack PA
12x RCF HDL-20a
3x RCF SUB 8006
Monitors
7 x RCF NX 12 SMA monitor
1 x RCF 8003-ASII. Drum/DJ sub
Microphones
6x Shure SM58
3x SM81
2x Shure Wireless GLXD24/SM58 (Handheld)
4x Shure SM57
1x Shure Beta57
1x Shure Beta91
2x Shure PG81
3x Shure PG56
1x Shure PG52
4x Audix D2
2x Audix D4
1x Audix D6
2x Rode NT5
4x Radial Pro48
4x Radial ProDI
2x Behringer Ultra DI
3x round base mic stand
4x K&M drum clip
15x K&M short boom mic stand
17x K&M tall boom mic stand
2x K&M tall mic stand
Lighting (see pics below)
Obsidian NX-touch console with on-pc ONYX software (touchscreen laptop)
2 x ETC Smartfade 12ch 10a dimer
1 x Chauvet Data Stream 4 opto splitter
7 x Source 4 conventional leko
1 x ETC Source 4 jr Zoom (park theatre gobo)
8 x Martin Rush MH1 Profile moving light (4 x US/ 4 x MS)
2 x Elation Cuepix WW2 led blinder
12 x Martin Rush Par 1
2 x Chauvet Rouge R1 Spot (DS – can be used for mirror ball spot)
8 x Microh LED64 (curtain side lighting)
2 x Microh Razor 45
2 x Martin Wizard dance light
2 x Laserworld laser
1 x 24" Disco Ball
1 x Antari HZ-350 Haze Machine
1 Universe
122 free channels on House Patch for touring fixtures
*For acts touring with a distro There are no Cam Lock Tie Ins. – They will require rental of power adapters from the distro into a Edison breakout box *Power for box is a 240 50 amp stove plug. 
Projection System
BenQ LU 9800 Projector
Key Features:
Brightness 10,000 ANSI Lumens
Resolution 1920×1200
Aspect Ratio 16:10 (WUXGA)
Display Type 2 cm DLP x 1
Color Processing 10-bit
Input Lag 1080p/60: 34ms
Video Modes 720p, 1080i, 1080p/60
Data Modes MAX 1920×1200
3D Modes Full HD 3D
Kramer switcher VP-728
Screen
24 ft x 17 ft
Turntables
2 x 1200 Technics
Drum Risers
Two 8 ft x 4 ft by 2 ft high drum risers
Click on the Lighting Spec images below to see them enlarged.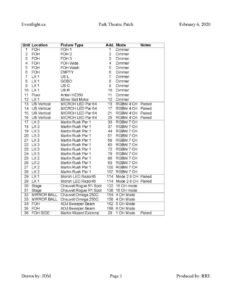 Still Have Questions? Get In Touch!